My Blog
Posts for tag: dental implant
By John G. Masak, DDS
May 06, 2019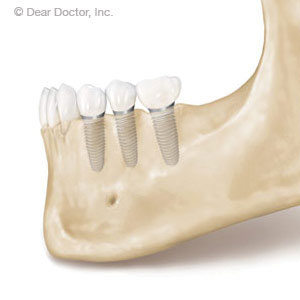 Losing teeth continues to be an all too common experience for people, especially those in their senior years. Fortunately, there are several ways to replace them, ranging from partial or full dentures to implants.
Some, though, postpone or simply choose not to replace a lost tooth, often because of the cost. But putting off a dental restoration could have a long-term impact on your health, and not in a good way. Continuing bone deterioration is one of the top consequences of delayed restoration.
Like other bones in the body, the jawbone is living tissue with cells that form, grow and eventually wear out. At the end of their life, these older cells give way to new cells. Eating and chewing play an important role in maintaining this growth cycle: the forces we generate as we chew travel up through the tooth roots to stimulate bone growth in the jaw.
When a tooth goes missing, though, the stimulus ends. Over time the bone cell replacement rate can fall off and the bone slowly loses volume. To make matters worse, bone loss can continue beyond the immediate bone underlying the tooth and affect the rest of the jawbone. The jaw can shrink in height and width, and in time become weaker overall and more susceptible to fracture.
But dental implant restorations in particular could help stop or even reverse bone deterioration at the site of the missing teeth. The titanium post implanted in the jaw attracts bone cells, which grow and adhere to its surface. Over time the bone fills in and becomes stronger.
You don't want to wait too long, though, because implants depend on a minimum amount of bone present for secure placement. You should therefore undergo an implant restoration as soon as it's practical after tooth loss. Otherwise, although we may be able to restore some of the lost bone with bone grafting, you may need to consider another restorative option.
When it comes to replacing missing teeth, time isn't on your side. But the right kind of dental restoration undertaken promptly can make for a brighter, healthier future.
If you would like more information on restoring lost teeth, please contact us or schedule an appointment for a consultation. You can also learn more about this topic by reading the Dear Doctor magazine article "The Hidden Consequences of Losing Teeth."
By John G. Masak, DDS
November 19, 2014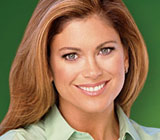 It is not often that you find a celebrity who is willing to speak candidly about any cosmetic or restorative dentistry that he or she has had. Instead, most prefer that their fans just assume that their dazzling "Hollywood" smile is something that just happened naturally. However, that is not the case with Kathy Ireland, the former Sports Illustrated cover girl, current business mogul and founder of kathy ireland Worldwide, a billion dollar marketing and design firm. In a Dear Doctor magazine cover story she talks openly about her dental experiences, injuries and treatment so that people worldwide can understand what may be possible for them.
For Kathy, it happened several years ago when she was playing with her husband and children in their driveway. Kathy decided that she would stand in her children's wagon and surf across their driveway. Instead, she ended up "face-planting," as she describes it, in a freak accident that left her with a broken nose, split forehead and several broken teeth. She recalls that it sounded like a watermelon had smashed. Luckily, her husband, an emergency room physician, was on hand to care for her. Kathy is just as thankful to her cosmetic and restorative dentist who restored her trademark smile with some veneers and a dental implant. Today, the only reminder she has from this accident is a small scar on her nose that she covers with a little makeup.
You would think that this accident would be enough trauma for one person; however, Kathy describes an earlier accident where she knocked out a tooth and then later knocked it loose again. Kathy also wanted to take the time to let readers know that her dental implant experiences were "pretty easy." She did recall, "hearing all the sounds while all of it was going on" and then added, "but I have to tell you, that after being a mom and having kids, going to the dentist...is like going to the spa!" She said that she has even fallen asleep in the dental chair.
To learn more about Kathy Ireland, continue reading the Dear Doctor magazine article "Kathy Ireland." Or if you think cosmetic or restorative dentistry is right for you, contact us today to schedule an appointment to discuss your specific goals.