My Blog
Posts for tag: dental hygiene
By John G. Masak, DDS
November 15, 2013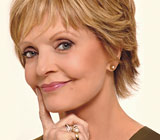 Florence Henderson, star of one of television's most beloved situation comedies, is still actively engaged in a variety of projects at 75-plus years of age. Her bright smile was part of her character as Carol Brady in The Brady Bunch, a popular sitcom that played for five seasons from 1969 to 1974. Though the show was discontinued, syndicated episodes continue to play in the U.S. and 122 other countries.
"I played Carol as the mother I always wished I had," she told Dear Doctor magazine. Her portrayal of mother and wife in a blended family with six children won her the Smithsonian Institution's TV Land Pop Culture Icon Award, which is on display in the National Museum of American History in Washington, DC.
After her successes on Broadway and in television, she was selected for numerous product endorsements, and The Wall Street Journal ranked her #5 in their top ten television endorsers based on viewer satisfaction. One of the products she endorsed was Polident, a brand of denture cleaners and adhesives. However, Henderson has revealed that she has her own natural teeth and does not wear dentures. Her advice to others who want to keep their natural teeth is to pay attention to prevention. "I think the most important thing one can do as with any health issue is prevention," she said. "Flossing, brushing, and regular dental checkups are vitally important if you want to keep your natural teeth."
When she was 22, she says, she had four impacted wisdom teeth removed at the same time. This experience made her aware of the importance of dental care, and since then she has had a checkup every six months. Wherever she travels, she says that she always has mouthwash, dental floss, toothpaste, and a toothbrush on the set.
Contact us today to schedule an appointment to discuss your questions about tooth care. You can learn more about Florence Henderson by reading the Dear Doctor magazine interview "Florence Henderson, America's Favorite TV Mom Has Many Reasons to Smile."
By John G. Masak, DDS
January 15, 2013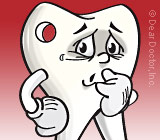 A number of factors can lead to dental caries (tooth decay). To find out if you are at high risk, ask yourself these questions.
Is plaque visible in my mouth?
Dental plaque is a whitish film of bacteria that collects on your teeth. If it is clearly visible, it means that there is a lot of it. Among the bacteria in the plaque are those that produce tooth decay, particularly in an acidic environment. (A normal mouth is neutral, measured on the pH scale, midway between the extreme acidic and basic ends of the scale.)
Do I have a dry mouth?
Saliva protects your teeth against decay by neutralizing an acidic environment and adding minerals back to the outer surface of enamel of your teeth, so reduced saliva is a high risk for caries. Many medications can cause dry mouth as a side effect.
Do I eat a lot of snacks, particularly unhealthy ones?
Frequently eating sugars, refined carbohydrates, and acidic foods promotes the growth of decay-producing bacteria. The more frequently you eat, the longer your teeth are bathed in sugars and acids. Acidic foods not only promote bacterial growth, they also directly cause erosion of the tooth's hard surface by softening and dissolving the minerals in the enamel.
Do I wear retainers, orthodontic appliances, bite guards or night guards?
These appliances are recommended for various conditions, but they tend to restrict the flow of saliva over your teeth, cutting down on the benefits of saliva mentioned above.
Do my teeth have deep pits and fissures?
The shape of your teeth is determined by your heredity. If your teeth grew in with deep grooves (fissures) and pits in them, you are at higher risk for bacterial growth and resulting decay.
Do I have conditions that expose my teeth to acids?
If you have bulimia (a psychological condition in which individuals induce vomiting), or GERD (Gastro-Esophageal Reflux Disease), your teeth may be frequently exposed to stomach acids that can cause severe erosion to your teeth.
Do I already have cavities?
Visible cavities can range from those only visible with laser technology or x-ray examination to those a dentist can see with a naked eye. If you already have small cavities, you are at high risk for developing more.
Do I have white spots on my teeth?
White spots are often the first sign of decay in a tooth's enamel. At this point, the condition is often reversible with fluorides.
Have I had a cavity within the last three years?
Recent cavities point to a high risk of more cavities in the future, unless conditions in your mouth have significantly changed.
If you have any of these indications of high risk, contact us today and ask us for suggestions for changing the conditions in your mouth. You can also learn more by reading the Dear Doctor magazine article "Tooth Decay."