My Blog
Posts for tag: common symptoms
By John G. Masak, DDS
April 20, 2013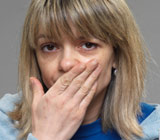 While most people can expect to have a temporary case of bad breath after eating spiced foods like garlic, smoking, drinking coffee or wine, odor that persists and becomes chronic is not something to take lightly. We can help diagnose the underlying cause of your bad breath, making both you and the people around you much happier!
Chronic bad breath, also known as "halitosis," affects about 25% of Americans to some extent. Treating the condition effectively requires a thorough oral examination to uncover the source of the odor. Although some forms of bad breath can be caused by medical conditions like diabetes, lung infections, even kidney failure and cancer, between 85% and 90% of cases originate in the mouth. There are more than 600 types of bacteria found in the average mouth and, given the right (or, should we say, wrong) oral environment, dozens of these bacteria can produce foul odors including a "rotten egg" smell from the production of volatile sulfur compounds (VSCs).
Some of the oral causes of bad breath include:
Naturally occurring bacteria found on the back of the tongue that thrive on food deposits, dead skin cells and post nasal drip (Yuck!);
Dry mouth, after sleeping, especially when an individual breathes through his or her mouth;
Unclean dentures;
Decaying or abscessed teeth;
Diseased gums; and
Infected tonsils.
Once the exact origin of the odor has been determined, we can tell you what form of treatment you'll need to successfully banish the bad breath for good. If your problem is merely the result of poor oral hygiene you can play a large role in turning your situation around. In any case, treatments for mouth-related halitosis can include:
A careful, at-home plaque control routine using dental floss and a special toothbrush designed to clean between teeth — nobody really knows how to properly clean without professional instruction;
In-office and at-home tongue cleaning using a tongue scraper or brush;
Instruction on how to properly clean your dentures;
To treat underlying gum disease, periodontal therapy in the form of a deep cleaning, also known as scaling or root planing; and
Extraction of wisdom teeth that exhibit debris-trapping gum tissue traps.
So if you are ready to toss your breath mints away and pursue a more permanent solution to rectify your mouth odor, call our office today to schedule an appointment. For more information about the causes of bad breath, read the Dear Doctor magazine article "Bad Breath: More Than Just Embarrassing."
By John G. Masak, DDS
January 15, 2013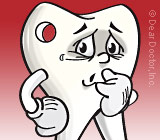 A number of factors can lead to dental caries (tooth decay). To find out if you are at high risk, ask yourself these questions.
Is plaque visible in my mouth?
Dental plaque is a whitish film of bacteria that collects on your teeth. If it is clearly visible, it means that there is a lot of it. Among the bacteria in the plaque are those that produce tooth decay, particularly in an acidic environment. (A normal mouth is neutral, measured on the pH scale, midway between the extreme acidic and basic ends of the scale.)
Do I have a dry mouth?
Saliva protects your teeth against decay by neutralizing an acidic environment and adding minerals back to the outer surface of enamel of your teeth, so reduced saliva is a high risk for caries. Many medications can cause dry mouth as a side effect.
Do I eat a lot of snacks, particularly unhealthy ones?
Frequently eating sugars, refined carbohydrates, and acidic foods promotes the growth of decay-producing bacteria. The more frequently you eat, the longer your teeth are bathed in sugars and acids. Acidic foods not only promote bacterial growth, they also directly cause erosion of the tooth's hard surface by softening and dissolving the minerals in the enamel.
Do I wear retainers, orthodontic appliances, bite guards or night guards?
These appliances are recommended for various conditions, but they tend to restrict the flow of saliva over your teeth, cutting down on the benefits of saliva mentioned above.
Do my teeth have deep pits and fissures?
The shape of your teeth is determined by your heredity. If your teeth grew in with deep grooves (fissures) and pits in them, you are at higher risk for bacterial growth and resulting decay.
Do I have conditions that expose my teeth to acids?
If you have bulimia (a psychological condition in which individuals induce vomiting), or GERD (Gastro-Esophageal Reflux Disease), your teeth may be frequently exposed to stomach acids that can cause severe erosion to your teeth.
Do I already have cavities?
Visible cavities can range from those only visible with laser technology or x-ray examination to those a dentist can see with a naked eye. If you already have small cavities, you are at high risk for developing more.
Do I have white spots on my teeth?
White spots are often the first sign of decay in a tooth's enamel. At this point, the condition is often reversible with fluorides.
Have I had a cavity within the last three years?
Recent cavities point to a high risk of more cavities in the future, unless conditions in your mouth have significantly changed.
If you have any of these indications of high risk, contact us today and ask us for suggestions for changing the conditions in your mouth. You can also learn more by reading the Dear Doctor magazine article "Tooth Decay."