My Blog
Posts for: May, 2015
By John G. Masak, DDS
May 29, 2015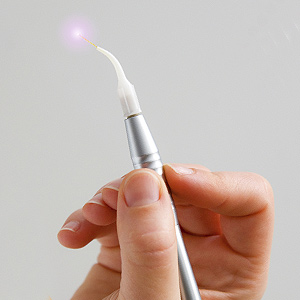 Since their development in the laboratory over five decades ago, lasers have found increasing use in our everyday lives. In the field of medicine, it's not uncommon to find lasers in the offices of dermatologists, ophthalmologists and surgeons, to name just a few. Now, some dentists are finding that lasers can offer an alternative means of treating gum disease — and one that may have advantages in certain situations.
You probably know that a laser produces a special kind of light — in fact, its name is an acronym for "Light Amplification by Stimulated Emission of Radiation." Essentially, a medical laser uses electrical energy to produce an intense and narrow beam of concentrated light. This light can be directed to a particular area, often via a fiber-optic channel. The laser's precision allows a doctor or technician to focus the light energy exactly where it's needed — to remove diseased tissue, seal off blood vessels, and sterilize a wound, for example.
For several years, periodontists — dentists who specialize in treating diseases of the gums — have been researching the use of lasers for treating certain types of gum disease. In standard clinical practice, hand-held instruments and ultrasonic cleaning tools are used at regular time intervals (3 – 6 months) to remove the sticky bacterial biofilm, as well as calculus (tartar), that forms in between teeth and gums. If that still isn't effective, gum surgery may be required to access the affected area, remove diseased tissue, and reduce pocket depth (the space below the gum line that gets larger as bone loss occurs) to prevent reinfection.
Recently, however, several new procedures have been developed that use lasers to accomplish some or all of these goals. One type of therapy uses a special laser that emits pulses of light with a specific wavelength (color) of 1064 nanometers. This light passes through healthy cells like a sunbeam through a window — but when it encounters darkly-pigmented bacteria, it vaporizes them instantly!
One of the potential advantages of laser treatment is its precision: focused directly on the area where trouble occurs, it targets diseased tissue but leaves healthy tissue alone. Another is that laser treatment is less invasive: It requires less tissue removal, and may cause less discomfort and tissue shrinkage (gum recession) than conventional periodontal surgery. And because it produces small amounts of heat, it can seal blood vessels and help control bleeding.
While lasers have long shown promise for treating gum disease, until recently it wasn't clear if they offered any advantages over traditional methods. Now, several studies have shown that certain laser treatments can be just as effective as traditional gum surgery in many cases — with the potential benefit of being less invasive. In the future, the use of lasers for periodontal procedures is likely to increase.
It's important to remember that no single treatment — not even a laser — can "zap" gum disease in one fell swoop. Controlling periodontal disease requires effective at-home oral hygiene combined with regular professional care. If you have questions about periodontal disease, please call our office to schedule a consultation.
By John G. Masak, DDS
May 08, 2015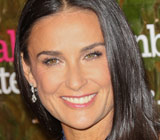 Once upon a time, a well-known Hollywood actress might have hired a private eye to keep unflattering pictures from appearing in the media. Today, that's no longer the case. Take timeless beauty Demi Moore: In a widely circulated set of photos, her gap-toothed grin showed she was actually missing one of her front teeth!
It turns out the actress released the pictures herself, as she live-tweeted the tooth replacement procedure from her dentist's office. Moore later explained that the tooth fell out suddenly as she was sitting at her desk.
Celebrities are just like regular folks… except they have more followers on twitter. So we're happy when they show us that no matter how bad a dental problem may seem, there's almost always a way to regain a gorgeous-looking smile. We're not sure exactly how Demi's dentist chose to restore the damaged tooth — but depending on the individual circumstances, modern dentistry offers a number of ways to close the gap.
A crown (or cap) is a replacement for the entire visible area of the tooth. It may be needed due to accident or trauma, or as a follow-up to root canal therapy. Placing a crown usually requires more than one office visit. First, the tooth is prepared by removing any decay and shaping it, and a precise model is made of the bite. Next, the permanent crown is custom-made in a dental laboratory; this is placed during a subsequent visit. Advances in technology, however, have made it possible in some instances to deliver the permanent crown in a single office visit. If the tooth still has a healthy root structure, a crown is usually a viable option — even when most of the visible part is gone.
What if the entire tooth, including the roots, are missing? Then your replacement options could include bridgework or a dental implant. A fixed bridge is a series of crowns joined together as one unit. The teeth on either side of the gap are prepared just as they would be for crowns, and the bridge (including a replacement for the missing tooth in the middle) is attached. Bridges have been used successfully for many years, but they have a drawback: They require enamel to be removed from the healthy teeth on either side of the gap, which could lead to a greater chance of decay, gum disease, or a root canal in the future.
The optimal solution, however, might be a dental implant. With this remarkable technology, the replacement tooth is solidly anchored into the jaw via a screw-shaped post made of titanium — a metal which actually becomes fused with the living bone tissue. A custom-made, lifelike crown is then securely attached to the metal implant. Dental implants are the most successful tooth-replacement procedure; they help preserve bone quality in the jaw — and with regular care, they can last a lifetime.
So if your smile is making you camera-shy, why not talk to us about your tooth-restoration options? If you would like additional information, please contact us or schedule an appointment for a consultation. You can learn more by reading the Dear Doctor magazine articles "Crowns & Bridgework" and "Dental Implants."