My Blog
Posts for: March, 2014
By John G. Masak, DDS
March 18, 2014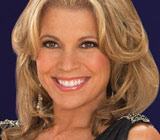 Describing Vanna White, co-host of the hit television game show Wheel of Fortune as friendly is an understatement. Yes, a good portion of the credit goes to her bubbly personality; however, you can't look at her without noticing her world-famous smile.
During an interview with Dear Doctor magazine, Vanna shared some of the secrets to her trademark smile. Secrets that she is instilling in her children.
"I floss every day and I brush my teeth at least twice a day — morning and night — and sometimes after lunch." She added, "I think that flossing is the most important thing. I believe that dental floss helps a lot, as it keeps your gums strong and looking younger." And when asked about how often she has her teeth professionally cleaned she replied, "...every four to five months because I get a lot of plaque buildup."
A typical dental hygiene visit is one that involves prophylaxis, a dental (and insurance) term for scaling and or polishing procedures to remove plaque and calculus (tartar) from the crown or portion of the tooth that you can see. Scaling is a procedure where we use special hand-held instruments and/or ultrasonic scalers to remove plaque, bacteria and tartar that can coat your teeth causing them to feel rough or fuzzy. To polish your teeth, we use a rubber polishing cup, prophy paste and a motorized instrument that removes bacterial plaque and surface stains. This is usually the last portion of a routine cleaning because it leaves your teeth feeling smooth and shiny.
However, if you have been seeing blood when you brush your teeth or while flossing, you have the telltale signs of periodontal (gum) disease. During your cleaning appointment, we will clean below the gum line to treat and manage your periodontal disease (an infection of the gum and jaw bones). We may also discover that additional, deep-cleaning treatments (such as root planing) may be needed to treat and manage your periodontal disease.
To learn more about this topic, continue reading the Dear Doctor magazine article "Teeth Polishing." Or you can contact us today to schedule an appointment so that we can conduct a thorough examination and cleaning. And if you want to read the entire feature article on Vanna White, continue reading "Vanna White."
By John G. Masak, DDS
March 03, 2014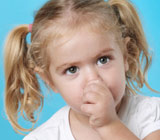 Thumb or finger sucking is a normal activity for babies and young children — they begin the habit while still in the womb and may continue it well into the toddler stage. Problems with tooth development and alignment could arise, however, if the habit persists for too long.
It's a good idea, then, to monitor your child's sucking habits during their early development years. There are also a few things you can do to wean them off the habit before it can cause problems down the road.
Eliminate your child's use of pacifiers by eighteen months of age. Studies have shown that the sucking action generated through pacifiers could adversely affect a child's bite if they are used after the age of 2. Weaning your child off pacifiers by the time they are a year and a half old will reduce the likelihood of that occurring.
Encourage your child to stop thumb or finger sucking by age 3. Most children tend to stop thumb or finger sucking on their own between the ages of 2 and 4. As with pacifiers, if this habit continues into later childhood it could cause the upper front teeth to erupt out of position and tip toward the lip. The upper jaw also may not develop normally.
Replace your child's baby bottle with a training cup around one year of age. Our swallowing mechanism changes as we grow; introducing your child to a training cup at around a year old will encourage them to transition from "sucking" to "sipping," and make it easier to end the thumb or finger sucking habit.
Begin regular dental visits for your child by their first birthday. The Age One visit will help you establish a regular habit of long-term dental care. It's also a great opportunity to evaluate your child's sucking habits and receive helpful advice on reducing it in time.
While your child's thumb or finger sucking isn't something to panic over, it does bear watching. Following these guidelines will help your child leave the habit behind before it causes any problems.
If you would like more information on children's thumb-sucking and its effect on dental development, please contact us or schedule an appointment for a consultation. You can also learn more about this topic by reading the Dear Doctor magazine article "Thumb Sucking in Children."